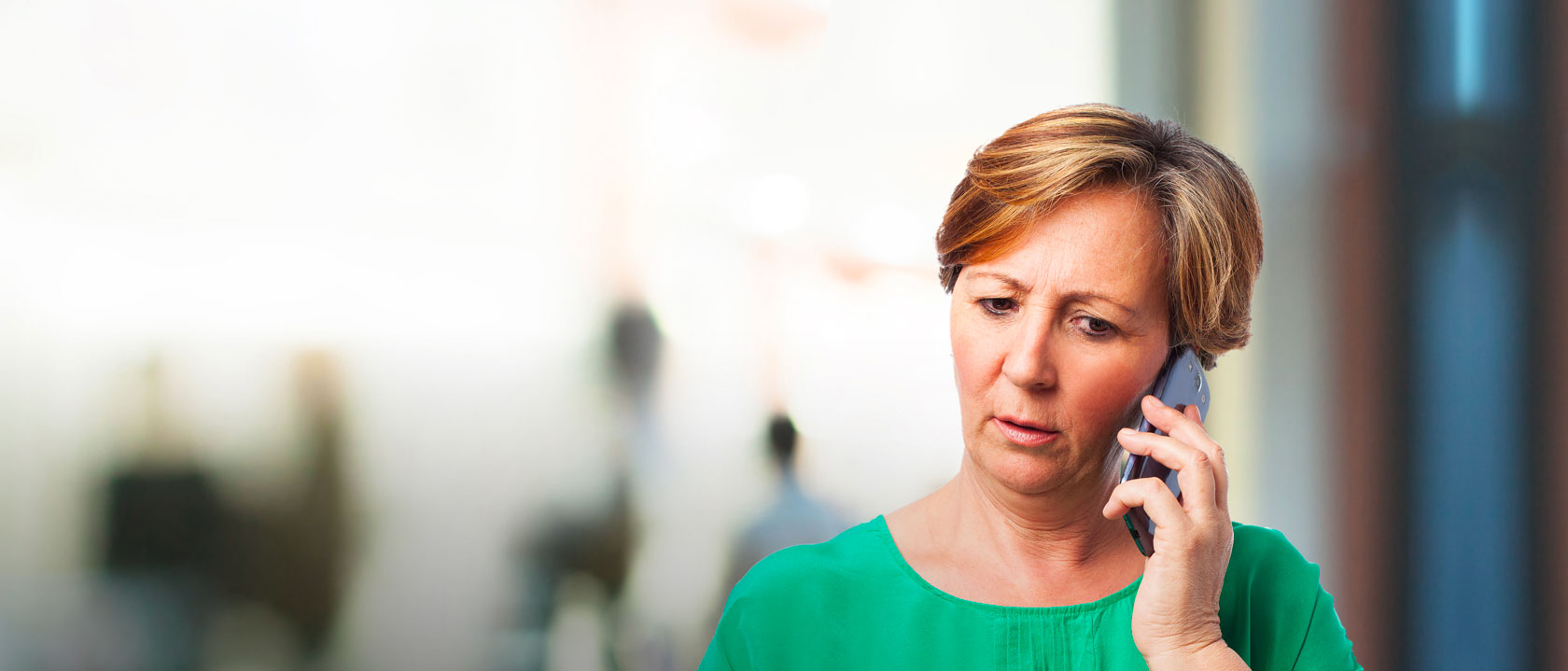 As a carer or person with care needs, it's important to have a plan in place should an emergency occur.
Emergencies
It is easier to deal with emergencies if you have planned for them beforehand.
Carers UK have some handy tips to help you deal with any emergencies that happen.
Make a list of Emergency Numbers
Put a list of emergency numbers somewhere handy in case you need them in a rush. Make sure they include phone numbers for:
GPs, including out of hours numbers
Local councils (social services), including out of hours numbers
Other people (friends and family) who might be able to help
Medical Information Apps
The are a number of phone apps that allow you to create a medical profile that is accessible from your phones lock screen. In case of emergency, profiles enable quick access to vital information such as your allergies, blood type, medical contacts, etc. that are essential to attending first responders, medics or medical staff having to take action. Search 'Medical ID' in the app store to find a range of free and paid apps.
Medical ID 
Medical ID helps first responders access your critical medical information from your phone's lock screen, without needing your passcode.
Setting up your Medical ID
Open the Health App on your phone and tap the
Medical ID tab
Tap Edit. If asked, tap Edit Medical ID
To make your Medical ID available from the lock screen on your phone, turn on 'Show When Locked'
In an emergency, this gives information to people who want to help
Enter health information like your birth date, height, medical conditions and blood type
Tap Done
Editing Emergency Contacts
Open the Health app and tap the Medical ID tab
Tap Edit, then scroll to Emergency Contacts
To add an emergency contact, tap  under emergency contacts. Tap a contact, then add their relationship
To remove an emergency contact, tap  next to the contact, then tap delete
Tap Done
Medical ID will allow you to ring the emergency contact numbers which are set up (it will not allow you into the contacts list to see the ICE numbers) you can see John's sister Chloe (below) is his contact (you can set up as many contacts as you want) you can also use the Medical Conditions to write what you want for example, carers could write they have caring      responsibilities or someone at home to get back for and address etc.
If Medical ID is set up, it will look like the middle phone once the emergency link is pressed from the first screen. From there you can access the medical ID information. (This is an IPhone but most digital and android phones have it)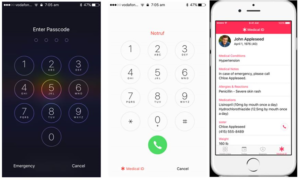 ICE Contacts
If someone doesn't have the medical ID facility and doesn't use a password on their phone, then the alternative is to set up ICE contacts (In Case of Emergency). This would involve adding the letters ICE directly in front of a persons name in your phone to ensure first responders would know they are your ICE contact on checking.
Message in a Bottle
Message in a Bottle is where you keep essential personal and medication details in a small bottle in the fridge.  Paramedics, police, fire fighters and social services know to look in the fridge when they see the 'Message in a Bottle' stickers.
This can be really helpful if the person you care for has a condition that can suddenly change so that they need medical help; such as diabetes or allergies.
The Message in a Bottle scheme is run across the UK by Lions Clubs.
Your GP or pharmacist may be able to give you one of the bottles or you can contact Lions directly.
Contact Us
If you'd like to talk to someone about your role as a carer contact us, or complete the short form below and we will contact you…
Contact us