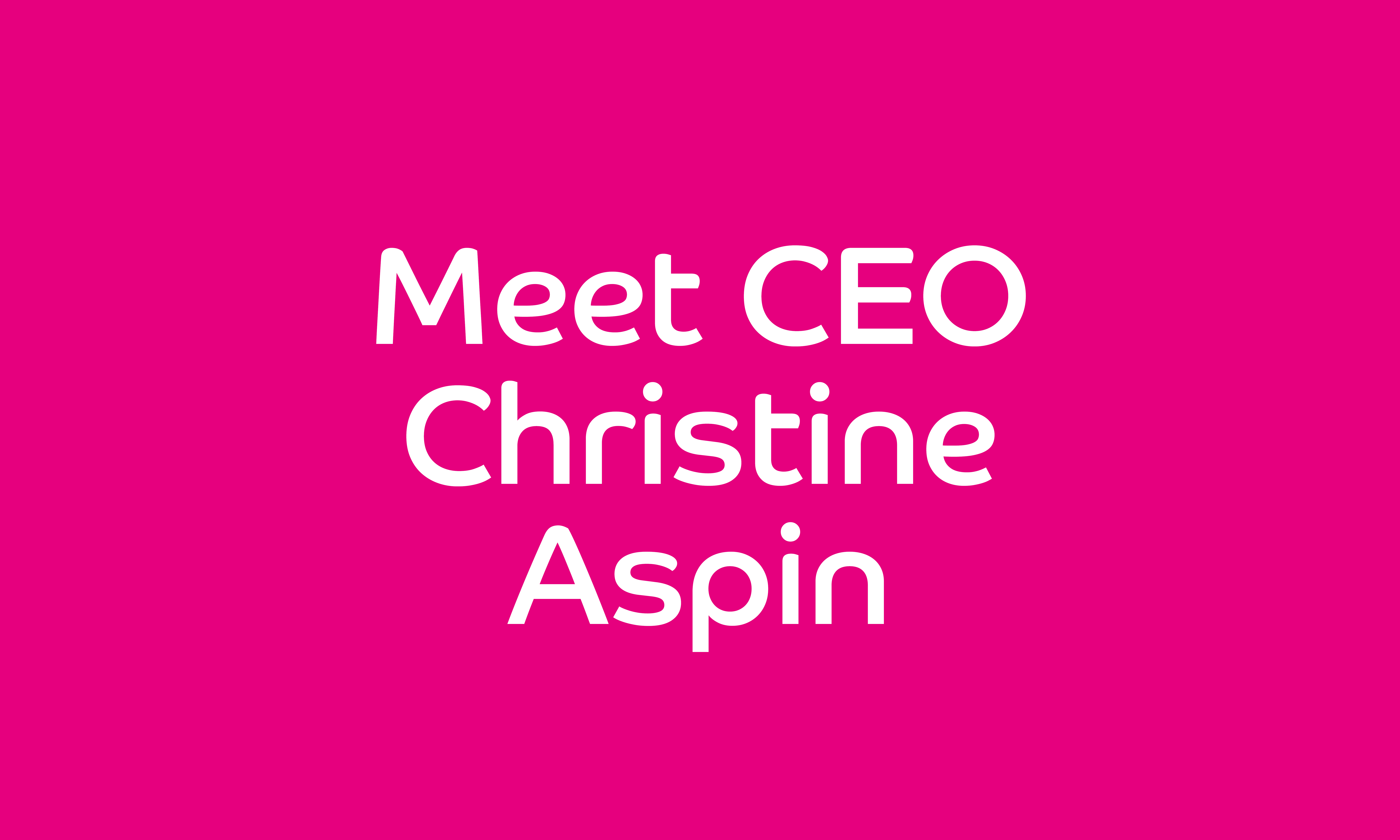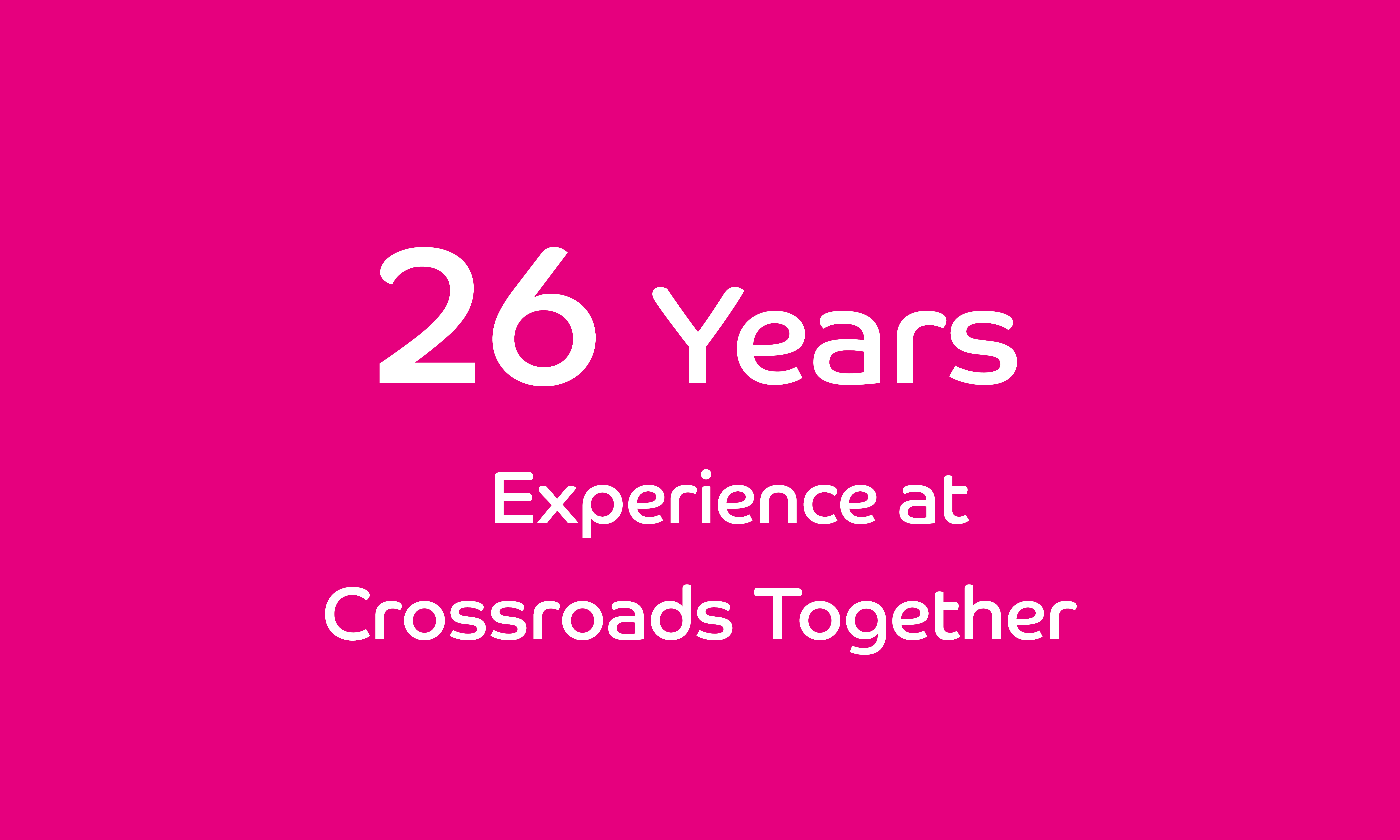 Christine has held 11 roles over 26 years at Crossroads Together!
Christine's Crossroads Career
Christine has worked for Crossroads Together for 26 years to date and has 30 years experience in social care.
Christine started at Crossroads Together as a Carer Support Worker back in 1996 when she needed a break from university and continued that role for 13 years, so she knows first hand the highs and lows of providing social care.
As Christine became an expert in her field and her confidence grew, she took her first step into a role managing others as a Care Coordinator.
It became apparent that Christine could bring out the best in people and make a positive impact on people's lives. From there Christine quickly progressed through the ranks being recognised at every stage for her attention to detail, her problem solving skills and her ability to connect with others. Her understated style meant staff felt at ease with her, allowing Christine to include them on her journey to upskill and progress the team to ensure they always delivered high standards.
Christine's main focus as CEO is to support the teams to ensure that they are in the best place possible to deliver outstanding support to carers and people with care needs. In light of the many changes in social care, Christine wants to ensure sustainability of the charity to continue to serve people, looking at efficient, innovative and effective ways of working to deliver social care and support.
About Christine
When Christine started with the charity, she had already been supporting a friend with a serious health condition and her friend's husband, who was a trustee of Crossroads at the time, suggested she apply for the role of a Carer Support Worker.
That was the start of Christine's 26 year career at Crossroads Together and she's never looked back.
Christine is a firm believer that positive thinking will get you positive results. She also believes that everything happens for a reason and we need to make the best of every experience, learn from them and seek continuous improvement.
Christine never dreamt of progressing to CEO, it was never in her plans, however her passion to make the charity a great place to work and for it to succeed for all the right reasons is undoubtedly what will ensure the charity progresses going forward.
Christine enjoys the outdoors, mainly walking, she finds it gives her time to relax, unwind and reflect. She actively promotes exercise to her teams as she believes it has a wide range of health benefits and helps to maintain positive mental health.
She also enjoys spending time with her family which includes her husband, two daughters and two dogs.
Christine's Strategy
Christine's strategy is very much focused on building an effective, knowledgeable and skilled team. Succession planning has been vital and has supported her growth into this role. She has a passion for supporting the development of people through good and effective leadership, allowing others to reach their professional potential.
Subconsciously, Christine has built a team of professionals to be able to step up. By empowering them through mentoring, training, coaching and personal development plans, she believes she now has a strong successful team to support the charity alongside her journey to becoming an accomplished CEO.
Christine says: 'If I was asked if I had a super power, then it would be the ability to read people. I know when a member of my team is unhappy, sad, upset, worried, stressed etc… and I am able to gently intervene and help to prevent things escalating. I think it is because I genuinely care about the charity and my staff teams. I believe that a happy workforce will deliver great results.'
'I am not afraid to make mistakes and learn from them, I am also not afraid to admit to my mistakes, even though my husband would disagree!! I want my team to be open and honest with me and to help me be the best I can be. I care for the staff I work with and believe where possible that flexible working to suit individuals ensuring they have a good work live balance will deliver better outcomes.'
'My values are aligned to the charities values.'
title
Organisatonal Goals
As CEO Christine has a very clear vision of where she wants the charity to be. With her team behind her, here are her ultimate goals for Crossroads Together :
Improved outcomes for carers of all ages
Improved quality of life for people with care needs
First class customer service
Outstanding for CQC
Best staff retention in social care sector
Job satisfaction at all levels
Confident and competent staff
Sustainability
The non work stuff!
When Christine isn't working for Crossroads Together, she does lots to keep her busy;
She is a Trustee for Soul Sisters and WHAG, both charities supporting women and victims of domestic abuse and empowering people to speak up and live without fear.

Christine has always been super active until a recent fall that put her out of action but she's back on her feet and on the mend. She's ran in many a competition with her family and friends where they've crossed the finish line covered in mud.

More recently she's become a devoted dog mum two adorable dogs, firstly to  Airedale Terrier Teddy, then shortly followed by Bedlington Terrier Boo.
Building Partnerships
It's no accident that the word 'together' features in our charities name. We believe that great team work and solid partnerships are key to progression in all that we do and we're always looking to build on new ideas and ways of working.
If you share the same goals and values or have an idea about working together, then please do get in touch, we'd love to hear from you.